Telex Facilities
ICtelex was designed for use by people who have little experience in computer based communications and is intended to be integrated with existing applications.

ICtelex is in use throughout the world in conjunction with a host of application products such as financial accounting, word processing, office automation, electronic mail, databases and spreadsheets as well as a huge variety of vertical or market specific applications.

ICtelex may be used in conjunction with ICnetfax if required, thereby giving total flexibility in data communications.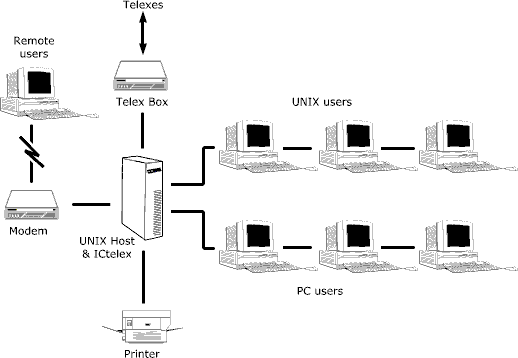 ICtelex allows users to generate and send a telex directly on their terminal. Received telexes may be printed locally or passed to individual user terminals. The user does not need to worry about the repetitive task of walking to and from the telex machine, dialling and re-dialling in an attempt to get the telex through, ICtelex handles it all.
The user can specify to send the telex to one or many destinations including the priority level required.
View telex status on screen
Priority Queuing
Deferred transmissions
Automatic submission
Short code dialling
Group codes
Call logging
Local printing
Compatible with SITA, SPRINT & SWIFT
For more information, contact us now.

© Copyright IDC 1997, all rights reserved.
All product or brand names are trademarks or registered trademarks of their respective holders.
IDC Ltd, City Reach, 5 Greenwich View Place, London, E14 9NN
Tel: 02030 26 99 85 (+44 2030 26 99 85)
Fax: 02030 260266 (+44 2030 260266)
email: sales@idcnet.co.uk