OMNIGATE Messaging server
The communications software that allows you to send a message to anyone anywhere.

OMNIGATE the future proof cost effective message server




OMNIGATE has been developed with the specific goal of running with minimal supervision. It is totally transparent to the users with all operations being handled automatically..

OMNIGATE is the perfect migration tool allowing your company to change e-mail systems or run co-existing systems seamlessly.

Great care has been taken to ensure stability, error handling and reporting, ease of use, easy administration, and expansion. The advanced administration utility provides numerous benefits, such as, importing of addresses directly from LAN based e-mail systems and the creation of multiple aliases for every user.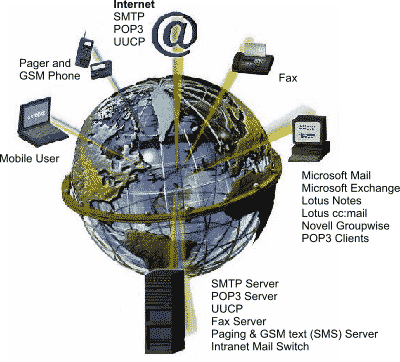 Some Features of OMNIGATE

| | |
| --- | --- |
| SMTP Server | 32 bit application |
| Dial up SMTP | Address lists personal & Global |
| POP3 Server | API ( Application Program Interface) |
| UUCP | Attachments MIME & UUENCODE |
| Fax | Autoreply |
| Pager / GSM text | Mail gateways MS Mail, Lotus Notes, |
| Internet mail switch | Lotus cc:mail, MS Exchange, |
| Virus scanning | Novell Groupwise & POP3 clients. |
| DNS Caching | Multiple Domains |
| Encoding | Encryption |
A Sample of OMNIGATE Users
Advanced Micro Computers, Agfa-Geveart, AT&T, Avon Cosmetics, Fuji films, Fujitsu Microelectronics, Natwest Bank, Nissan Motor Company, Sema Group, Texaco North Sea, Total Oil, Vista Controls and Virgin Management.