Fax Facilities
Most organisations make extensive use of facsimiles, however, most do not have any idea of the real cost.

If the staff in any organisation are acting as messengers - queuing at the fax machine to transmit a document and delivering incoming messages - you should consider a more practical and efficient solution.

It has been estimated that in many companies secretaries spend 15% or more of their time sending faxes - most of which is waiting time.

By computerising these tasks staff are able to send documents directly from their terminals or PC workstations in an easy, user friendly way. This makes the most efficient use of their time by increasing productivity, and speeding up transmission time.

Sending a fax becomes as easy as printing a document
Automated Fax, why?
No more manual faxing
No more paper jams
No more waiting to re-send failed faxes
No more re-dialling
Automating fax transmissions can show real savings in both time and money over the more conventional method, as well as increasing productivity, the quality of the received fax will improve your company image.

Our well proven UNIX based fax software ICfax allows users to send fax transmissions and view the status directly from their terminal, making sending a fax as easy as printing a document.

The software may be configured to allow only authorised users to submit faxes.
View fax status
Automatic retry
Delay transmissions by time and date
Priority transmissions
Short code dialling
Audit trail
PostScript option
Multiple fax lines
Group fax lines
ICfax may also be configured to accept incoming fax transmissions and print them to a standard HP compatible printer.

A received fax may also be re-transmitted from the systems adminstrator's terminal to one or many other destinations in full or part.
ICnetfax - The Network Fax Solution
The Windows PC's - UNIX Client - Server Solutions

ICnetfax is a powerful Windows to UNIX fax server solution for corporate networks. It has the appearance and behaviour that matches Windows making sending faxes as easy as printing.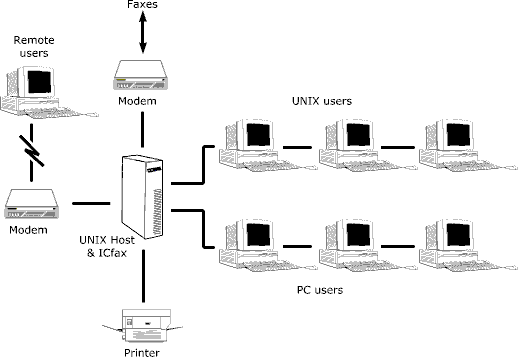 Because the PC Client software uses commands to which the user is accustomed it alleviates the requirement for costly and time-consuming retraining.
ICnetfax extends to the PC user on the LAN all the same facilities as those using directly connected terminals plus the facility to have their own local directory for regularly used numbers.
ICrouter - Faxes Delivered to Your Desktop
ICrouter is a facility which automatically delivers the incoming faxes to the recipient's desktop, without any need for any intervention by the systems administrator.

For the first time your network can be used to deliver faxes immediately to individuals at their desks.

Automatic delivery of incoming faxes will allow your organisation to respond more quickly and efficiently.